Contextures News 20190430
Excel Preview Warning
April 30, 2019
Free data science books, preview pane warning, and more, in this week's Excel news. Visit my Excel website for more tips, tutorials and videos, and check the index for past issues of this newsletter.
Note: For some products mentioned below, I earn a commission on sales. That helps support the free tutorials on my site.
Preview Picture
Do you remember early versions of Excel, when you could preview pictures in Excel's Open window? That feature is broken now - you can't preview Office files from inside their own program (see the Microsoft Support article).
However, if you try the steps below, you'll be able to see preview pictures in Windows Explorer - but read my warning below:
On the Excel Ribbon, click the File tab, then click the Info category
At the right, click the arrow for Properties, then click Advanced Properties
On the Summary tab, add a check mark to "Save Thumbnails for All Excel Documents", then click OK (This setting affects all Excel files - not just the active workbook)
Then, to see preview pictures in Windows Explorer, click the View tab, and click the Preview Pane, if it's not already showing.
WARNING: When you preview files, a hidden Excel instance opens, so you might see a "File in Use" message occasionally. There's more info on my website.
Naming Rules
Excel gives new pivot tables a numbered name, like PivotTable1. To make it easier to manage large workbooks, change those names to something descriptive - RegionSalesPT
There are only a few rules for pivot table names:
Name length: 1 to 256 characters
No duplicate names on the same sheet
Most characters are allowed, for example: My Pivot .?;#$%<>"'*
To change a pivot table name, type in the small box on the Ribbon's Analyze tab. Or, right-click on a pivot table, and click PivotTable Options. In there, you can see more of the name while you change it.
Get more information on the Pivot Table Options page, and see other Excel naming rules too.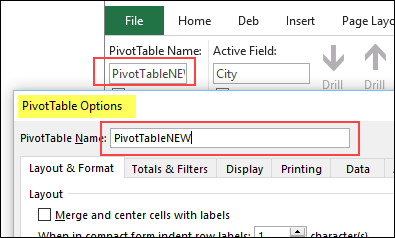 Update
In the last newsletter, I showed how to paste pivot table values and formatting, without the underlying data. Thanks to Jeffrey Browne who sent this tip, for pivot tables with NO report filters:
Copy the pivot table body
Right-click when you want to paste, and under Paste Option, click Values
Right-click the cell again, and under Paste Options, click Formatting
See other ways to paste pivot table values and formatting on my site.
Excel Articles
Here are a couple of Excel articles that you might find useful or interesting.
Power Query - Jeff Lenning, from Excel University, is hosting free webinars this week - How to Stop Wasting Time with Excel. See how to automate your Excel reports, using tables, efficient formulas, and then Power Query and the data model.
Free Books - Here's a list of six free Data Science books that you can download and read this summer. The bonus book includes a Excel data cleaning template. (Level - Int/Adv)
Calculators - Without the Great Calculator Race of the 1970s we wouldn't have iPhones. Or spreadsheets - Dan Bricklin competed with calculators when he built VisiCalc (video 3:10 mark). And have you tried Excel's built-in calculator/converter? (Level - All)
Also see: My Excel Products || Excel Events || Previous Issues || Weekly Humour
Step on a Crack
While walking home last week, I saw this scary face in the sidewalk. Someone has marked the broken parts, so I hope it's repaired soon. In the meantime, that face is probably causing nightmares for the neighbourhood children (and me!)
NOTE: To read this newsletter online, paste this URL into your web browser: https://www.contextures.com/newsletter/excelnews2019/20190430ctx.html
I'll also post any article updates or corrections there.
That's it for this week! If you have any comments or questions, send me an email.
Debra Dalgleish
dsdalg@ gmail.com
P.S. You can choose the full Contextures news package (news and occasional special announcements), or basic news package (news only). Click either link to change your option.